I had it in mind to work on a different post tonight, but with all the Sunday Social posts that came up in my blog feed today, I thought this may be a fun change from the norm! Without further ado, I am linking up with
Neely
and Ashley for Sunday Social and talking all about the Internet!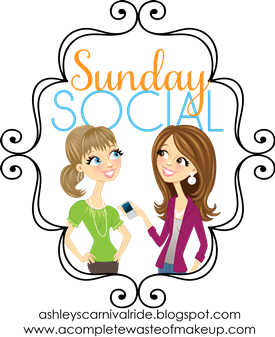 What is the first website you log onto each day?
After I hit my snooze button for 45 minutes straight, I get out of bed and get ready. I am pretty routine, so I don't usually browse until I am on my way to work. Sad to say, I usually hit up instagram, twitter, and facebook after I eat my oatmeal, in the car on the way to work. But only at stoplights. Promise.
What are some funny websites we need to know about?
Well, if you don't read The Bloggess, then you need to. Like, now.
Secondly, if you have ever looked through a Pottery Barn catalog and thought, why don't I live here...then you need to check out catalogliving.net. I die laughing over this one. Read it, and thank me later.
Lastly, David Thorne's blog is so funny I literally don't have words. I especially enjoy Overdue Account, Pie Charts, and the BlockBuster Late Fees.
Pinterest or Facebook?
Facebook. While I like Pinterest, it forces me to realize how grossly un-creative I am and how everyone's home, cooking, and clothes are better and cuter than mine. Depending on the day, facebook can be equally annoying, especially with all the political garbage people post behind the safety of their computer screens. Mostly I use facebook for...gasp!....keeping in touch with friends and family I don't see that often. Crazy, I know!
Twitter or Instagram?
Depends. Usually Instagram, however I go through phases. Sometimes I am tweet happy and sometimes I am insta-happy. Right now I have been a big twitter failure and need to step up my game. I am @TarynLeighLo on both.
Best YouTube Video...
Well, there are a ton out there, but this one never seems to get old...
or this one...
Biggest Online Pet Peeve?
I touched on it a little above, but right now, it is the nasty political facebook stuff. I have pretty strong opinions on many of the issues, I just choose to keep them off facebook. Some people don't and that's okay too...but when people are mean, cruel or disrespectful of others' opinions...that burns me up. People think just because they say it online and not in person, it's okay to say heinous things. Gross.