Okay, so I had a couple ideas in mind for what I wanted to post about tonight, none of which had to do with wedding stuff. But alas, things change, and after getting a kind of unexpected call today I once again am freaking out about all things wedding. Ugh!
So, before I get into today's call, let me rewind to a call I got about 8 days ago from the lady at the Boutique where I am getting my bridemaids dresses. Back in October, me and a couple of my bridesmaids went dress shopping, and I was sooooo excited to find a dress that I adored. Not only was it exactly the kind of simple, elegant dress I was looking for, but it appeared to be universally flattering, which was really important to me. Going into the whole bridesmaid dress thing, I was trying to be very conscious to A) not pick a hideous dress B) not pick a ridiculously expensive dress, and C) make it as stress-free as possible for my gals to purchase the dress. Since my wedding is not for another 8 months, I planned to give everyone until the end of the year to get their dresses ordered. Sounds pretty reasonable, right? Wrong. Apparently the wedding gods were not so keen with that plan. I got a call from the boutique owner last week letting me know that the dress designer was shutting down that line of dresses and I have until November 18 to get all my orders in. Ummm....can we say stress?! So after a frantic email to all of my b-maids, they all said they could rally and make it happen. Even thought they're all awesome for agreeing to the rush order, it was so not the way I wanted everything to go down. I guess this means that their bridesmaid gifts need to be extra awesome :).
Moving on to the call I got today....as some of you may recall from
this post
, I was lucky enough to find and purchase a fabulous wedding dress over labor day weekend during a girls' wedding weekend in Atlanta. For anyone who is not familiar with the process, it typically takes about 6-8 months for a wedding dress to come in once ordered. So, I was expecting to get a call sometime after March letting me know my gown was in. I did not, however, expect to get that call at 2:30pm this afternoon. Ummm, yep...my dress came in....and it only took two months! I know this doesn't seem like a big deal, but what you don't know is that I have 10 days to pick it up from the store! Apparently the dresses are only insured for 10 days and must be picked up in that time frame. Okay, great...no problem. Oh except that I live in Lexington, KY not Atlanta, GA...and even with the pedal to the metal, it's a 5.5 hour drive. That, folks, is what we call
stress
... So even though it freaks me out to do this...I am sending my sister to pick up the dress and bring it to me next weekend. The truth is, I am sure the dress is in perfect condition, and my sister is a neat freak perfectionist type so I know she will thoroughly inspect it before she leaves with it. But I'm sorry, only a bride is going to notice the details....and the fit....and the color....and any other tiny little thing that may be wrong with it. But this over-stressed bride is not going to be there to check, and that adds another level of anxiety to things that I really didn't anticipate. Plus, it brings up the inevitable question of this: What the HECK am I going to do with the dress for the next 8 months?! I feel sure that as soon as it goes to the back the guest closet at my parents' house there will be some mysterious house fire that attacks only that room and in contained only to the contents of the closet. It would be just. my. luck.
Sorry, I know those last two rants were a bit on the Debbie Downer side of things. My apologies. But I am curious...to all my married and engaged readers out there: Do you find the whole wedding planning thing as exhausting as I do? Don't get me wrong, I am absolutely beyond excited to marry my guy. I would do it tomorrow if I could. But I sometimes worry that all the "stuff" on our wedding to-do lists is going to get in the way of the excitement that we should be enjoying during this time in our lives. Does anyone else feel that way? Aside from the dress distress I'm going through right now, I am also knee deep in trying to get together out wedding website, pick out our Save-the-Dates, and most importantly...trying to get our guest list together. I can barely think about that without getting a nose-bleed.
One thing I am looking forward to though is doing our gift registry. We are going to tackle part of that this weekend. I really don't know what to expect with that, but really I am just looking forward to spending the day with K and spending it shoppping too! It's a win-win. So that brings up yet another question...where should we register?? I know that Macy's will be where we register for the majority of our gifts due to the fact that it's easily accessable to pretty much all of my guests (local and out-of-towners). But, I would also like to register for a few things at a more "specialty" kind of place....I am leaning towards Pottery Barn....but again, recommendations welcome.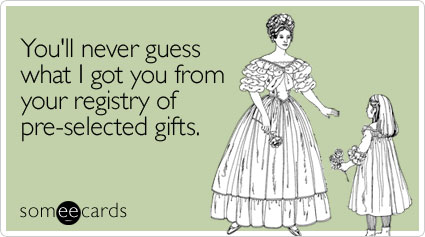 Anways, sorry for the wedding overload. Sometimes is feels good to just do a little pulse check with the rest of the universe and make sure I'm not the only crazy girl out there that feels like the planning can be overwhelming. Any tips out there from my married/engaged gals on things that you did/do to not get lost in the planning and enjoy it while it lasts??